The 49507 Project is a Black, Brown, Queer, and youth-led project rooted in collaboration to help make truly Public Art steered by the community where these pieces will live. This community art will utilize artists that are a reflection of those who have been underserved in The 49507 neighborhood.
Can Community Outreach Be Organic?
Can we use art to further activate our fellow neighbors, shift power dynamics in under-resourced areas, and more importantly, change the narrative while pushing to make The 49507 a multicultural arts district so that we can make our neighborhood a reflection of the culture that calls our community home for years to come.
The 49507 Project: More than just Murals
The 49507 Project is an artist and youth-led community celebration commissioning seven local Black and Brown artists for large-scale murals on prominent buildings in majority Black and Brown neighborhoods. The Project begins with arts programming for young people, incorporates community listening sessions and summer programming, and concludes with a youth-organized community art unveiling. This is an anti-racist project by and for POC.
Not only will these murals bring vibrancy to the area for years to come but fostering youth as future leaders of their community will have a lasting impact.
The Diatribe
Grand Rapids Area Black Businesses
The Diatribe
The 49507 Project - South East Market
The Diatribe
Henry Pena (Boost Mobile) Past, Present, and Future - The 49507 Project
The Diatribe
Darel Ross (40 Acres HQ) Past, Present, and Future - The 49507 Project
The Diatribe
Josh Solas - The 49507 Project
The Diatribe
Isaac V Norris (IVNA) Past, Present, and Future - The 49507 Project
The Diatribe
The 49507 Project - Public Thread
The Diatribe
The 49507 Project - 40 Acres Consulting
The Diatribe
Lisa + Janay (Public Thread) Past, Present, and Future - The 49507 Project
The Diatribe
Tony Whgln - The 49507 Project
The Diatribe
Esan Sommersell - The 49507 Project
The Diatribe
James Peacock III (GRABB) Past, Present, and Future
The Diatribe
The 49507 Project - La Casa de la Cobija
The Diatribe
The 49507 Project - The Old Goat
The Diatribe
Cory Demint (The Old Goat) Past, Present, and Future - The 49507 Project
The Diatribe
Octavia Thorns - The 49507 Project
The Diatribe
Erick Picardo - The 49507 Project
The Diatribe
The 49507 Project - Boost Mobile
The Diatribe
Khara + Alita (SEM) Past, Present, and Future
The Diatribe
Angelica Velazquez Past, Present, and Future - The 49507 Project
The Diatribe
Kristin Zuller - The 49507 Project
The Diatribe
E'lla Webber - The 49507 Project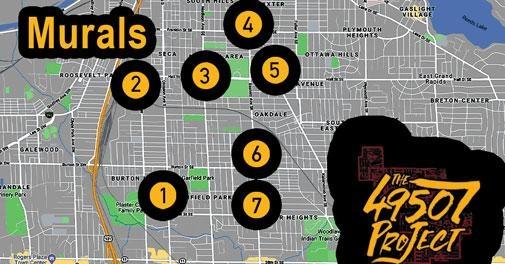 Artists and Locations
2355 Division Ave S.| Artist • Erick Picardo
Business • La Casa de la Cobija • Angelica Velazquez
1405 Buchanan Ave SW | Artist • Kristin Zuller
Business • Public Thread • Lisa Knight • Janay Brower
1221 Madison Ave SE | Artist • Josh Solas
Business • Boost Mobile • Henry Pena
703 Eastern Ave SW | Artist • E'lla Webber
Business • 40 Acres Headquarters • Darel Ross
1220 Kalamazoo Ave SE | Artist • Octavia Thorns
Business • The South East Market • Alita Kelly • Khara DeWit
2012 Eastern Ave SE | Artist • Esan Sommersell
Business • Grand Rapids Area Black Businesses • Jamiel Robinson
2434 Eastern Ave SE | Artist • Tony Whlgn
Business • The Old Goat • Cory DeMint